UGREEN รุ่น 50147 กระเป๋า Cable Organizer Double Layer Electronic Travel Gadget Carry Bag For USB Cable, Memory Card, Flash Hard Drive, Power Bank and More, Fit For iPad Mini Or Tablet (Up To 7.9")
รหัส : UGREEN-50147
ราคา 490บาท
UGREEN รุ่น 50147 กระเป๋า Cable Organizer Double Layer Electronic Travel Gadget Carry Bag For USB Cable, Memory Card, Flash Hard Drive, Power Bank and More, Fit For iPad Mini Or Tablet (Up To 7.9")
Versatile Travel Case: UGREEN Electronics Travel bag is designed with Big&Small stretch, elastic loop and zippered mesh pockets to accommodate the electronic accessories conveniently and flexibly. You can keep all your important digital electronic accessories in reach. Perfect for business travel, holidays, school, office etc.
Set Yourself Free: UGREEN Electronics organizer is ideal to keep all your important digital electronic accessories in order and in reach without searching all over the place.
Double Layer with Great Capacity: This travel case is Double Layer, including 12 elastic loops for small items such as usb cable, earphone, flash drive, sd card; 3 small mesh pockets for power bank, hard drive, mouse, power adapter, phone; 1 large mesh pocket for tablet like iPad Mini. One Case for all your beloved electronic accessories.
Excellent Protection and Sustainability: Equipped with premium rubber elastic loop, the carrying organizer can hold your gadgets in place firmly. The case is made of linen and polyester fibers, which is environmentally friendly and very durable. The mesh design between layers can avoid scratch from friction.
Light Slim Design: The closure size of the bag is around 245 x 175 x 50mm, weight is 0.19kg, you can easily put it in your backpack, shoulder bag. The convenient-double zipper of the sleeve pouch provides quick access to all your organized gadgets.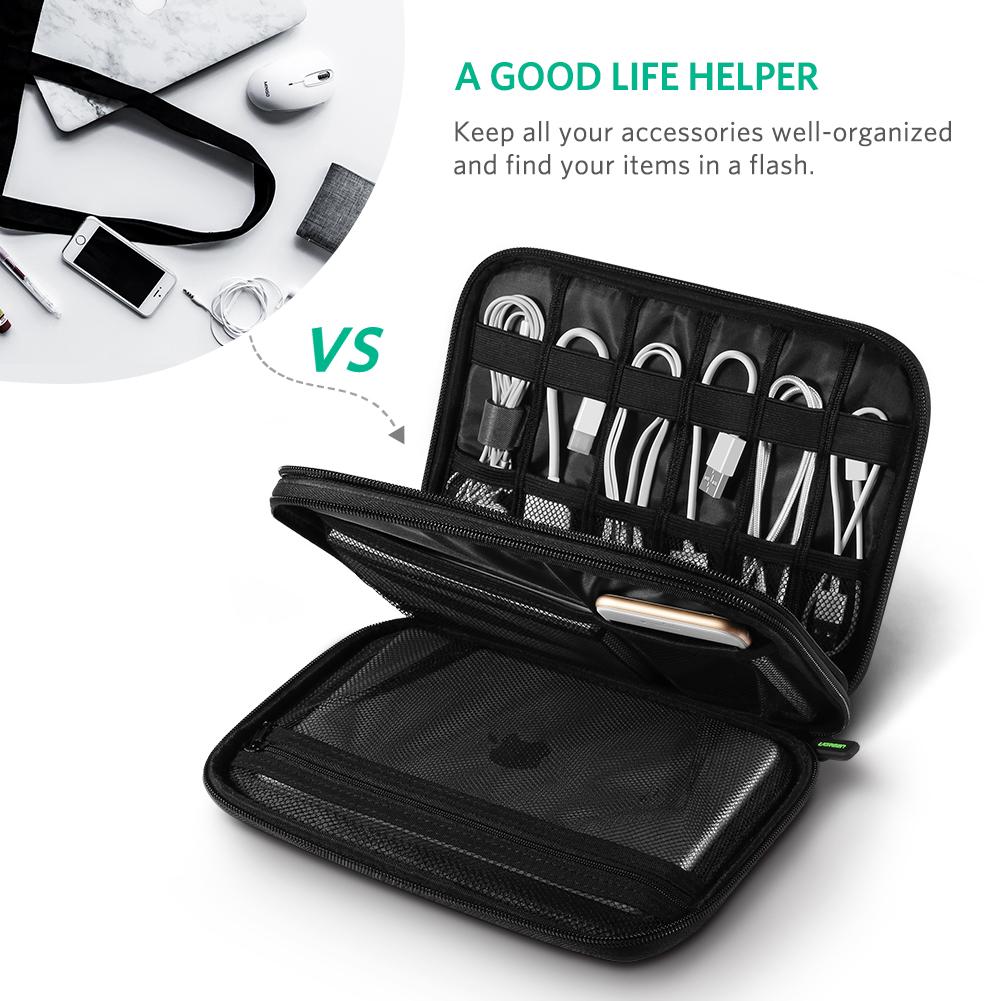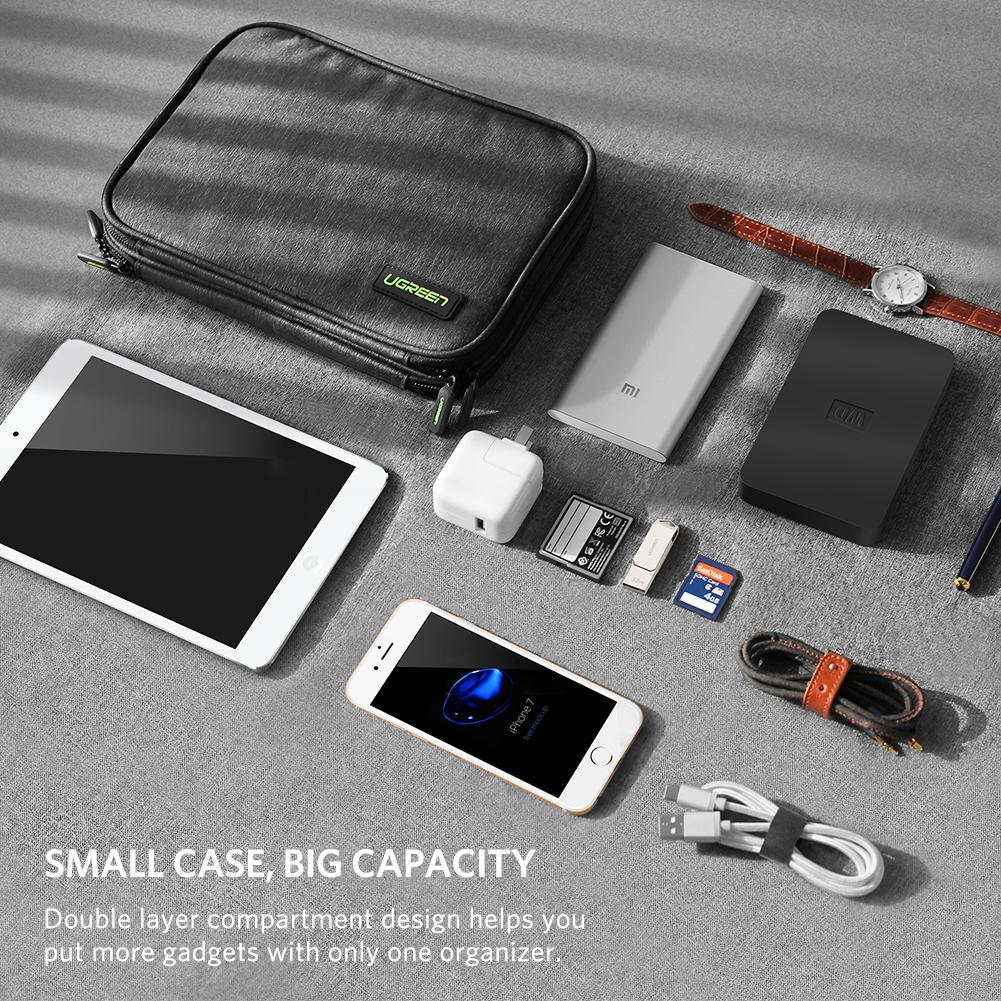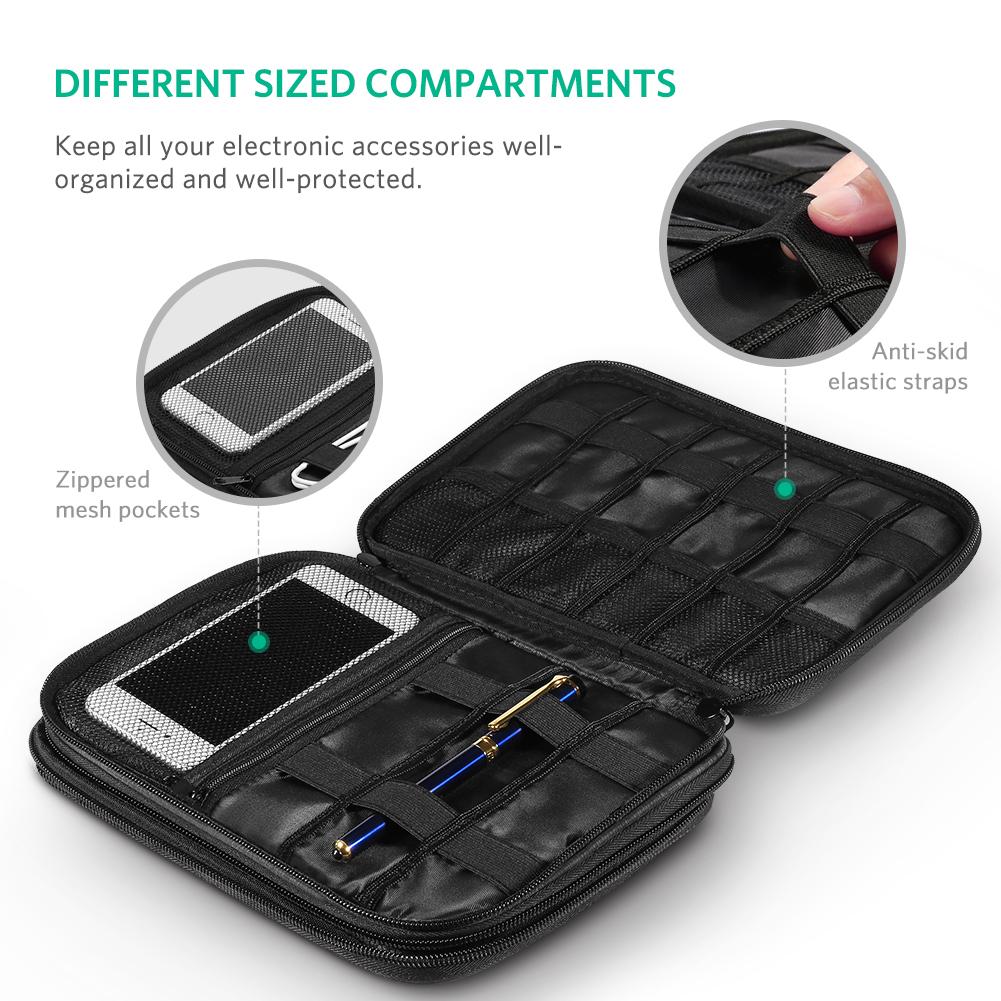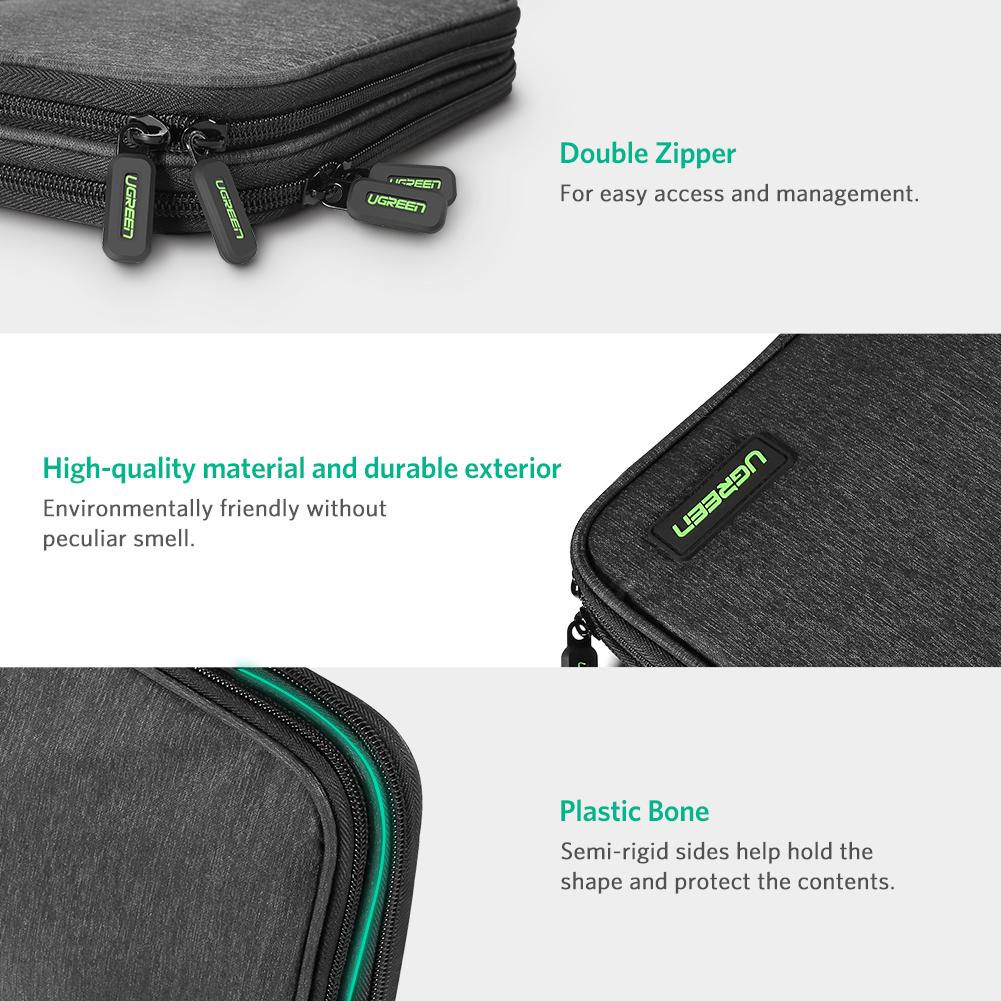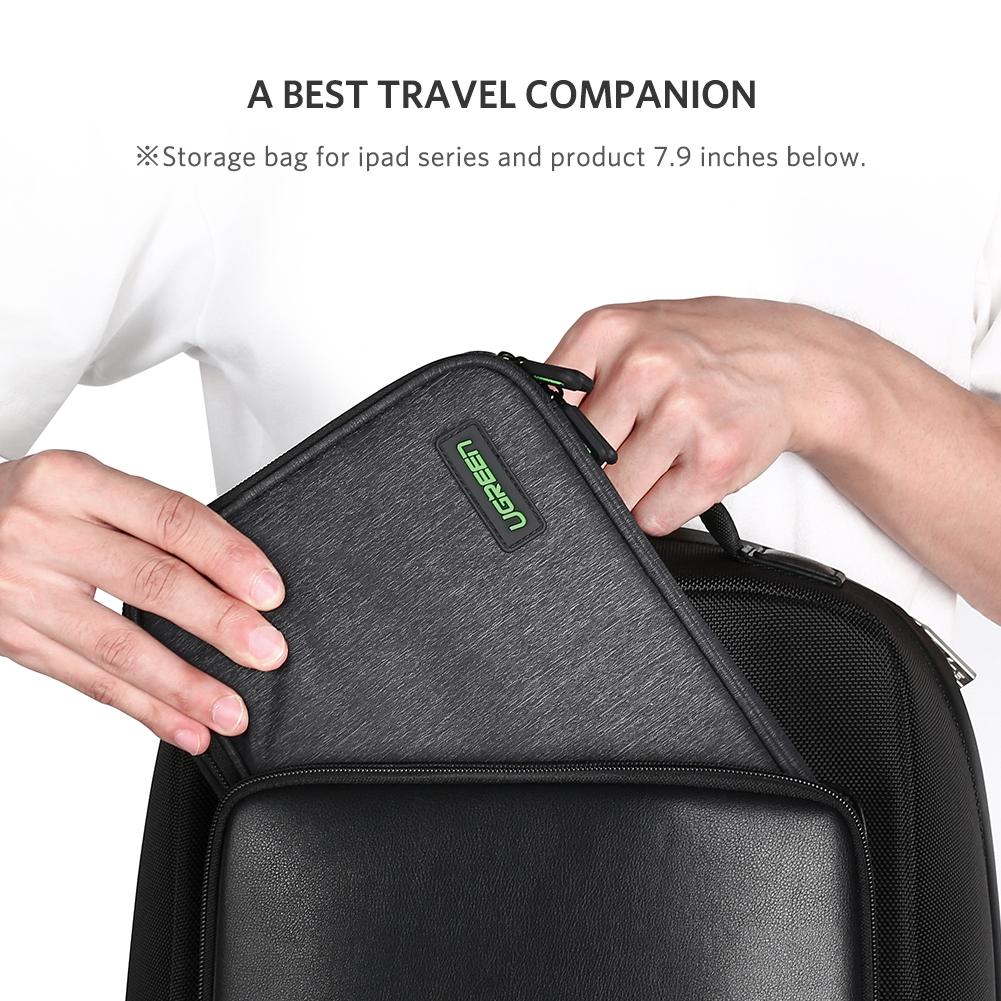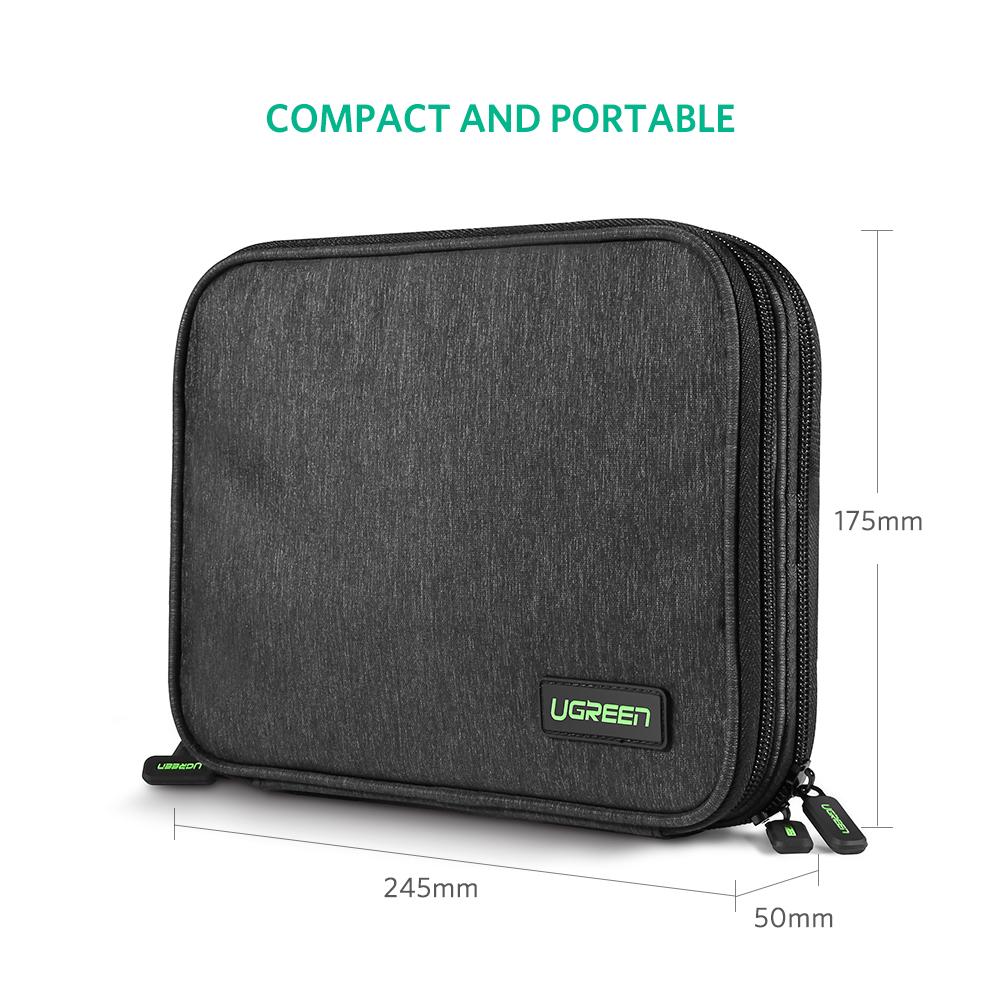 Say Goodbye to Much Long Time Organizing Electronic Accessories
Are you still annoyed by all messy cables and taking much time to deal with the electronic accessories? UGREEN Travel Carrying Case offers you a best solution to place all your electronic accessories in perfect
order and in reach. Just Travel with it and then you will know.

Double Layer Huge Capacity Organizer
1.First layer:
*12 elastic loops for small items such as usb cable, earphone, flash drive, sd card, travel router
*1 mesh pocket with zipper for power adapter, small power bank, MP3 player etc
2.Second layer:
*2 mesh pocket for mouse, phone, external battery pack, power bank etc.
*1 mesh pocket with zipper for tablet such as iPad Mini. Pls kindly note the size of the tablet should be less than 7.9 inches.

Multi Protection and Portable Travel Companion
The premium rubber elastic loop, linen and polyester fibers, mesh pockets can perfectly protect all your
gadgets from falling and scratch.With size of 245 x 175 x 50mm and weight of 0.19kg, you can easily put it
on your backpack, shoulder bag, suitcase.

Specification
Material: linen and polyester fibers
Closure Dimension: 245 x 175 x 50mm
Capacity: Power bank, memory cards, cable, battery, charger, earphone, e-reader, etc.
Color: Grey

Package Content
UGREEN Electronic accessory bag x 1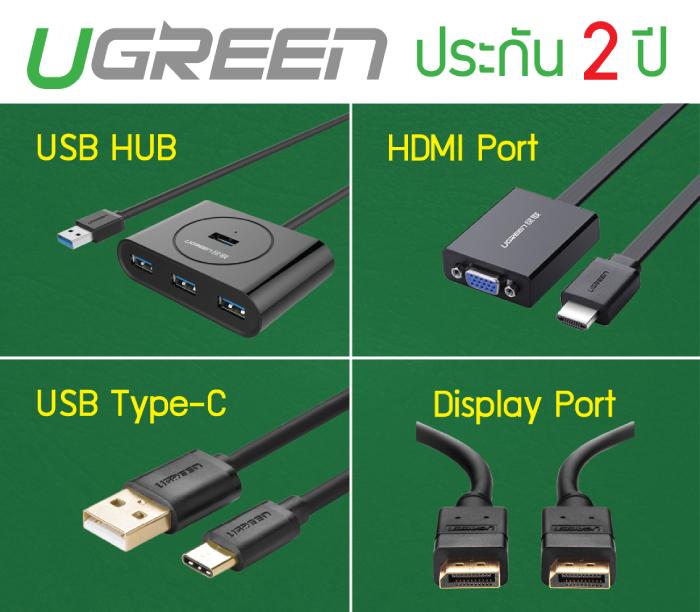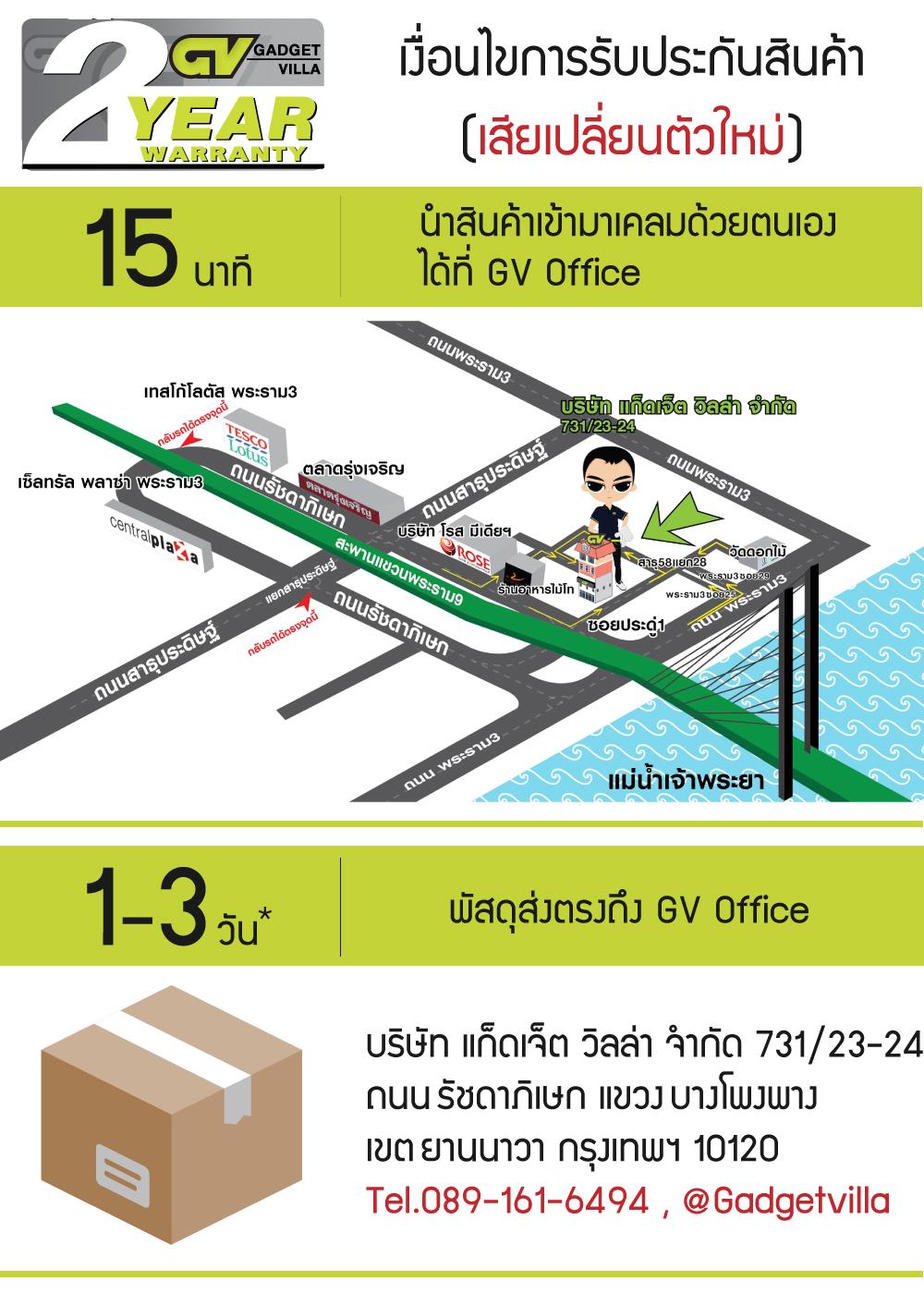 Technical Support